So, you're staring at your plate. It's mounded high with stuff you rarely would eat on any other occasion. You take a deep, steady breath in, take another bite, force yourself to swallow…you really can't take much more…
But wait, there's still pie…
Sound familiar?
I swore this wouldn't happen this year. Yup, like everybody else. And I promise, I was in my victory lap! I was so hyped and excited about the amazing restraint I'd shown…
Then Thanksgiving Two came on Friday, and I was a gonner.
Yup, I guess you can only beat the odds once. Throw in a second round of the holiday, and you don't stand a chance.
At least I worked out every morning of that vacation…I'll give myself that.
Anyhoodle. My brother was an absolute saint because he agreed to watch one of our dogs while I was on this pig out journey. And little did we all know what that would entail.
I decided to ruin my dog's vacation by scheduling her for a vet appointment and teeth cleaning, which involves full blown anesthesia (what a good mom I am!). Well, after hours of cleaning and way too many extractions later, she was sent home drugged to the nines and living life in slow motion. Brother graciously kept her drugged and kept the moist food coming for her.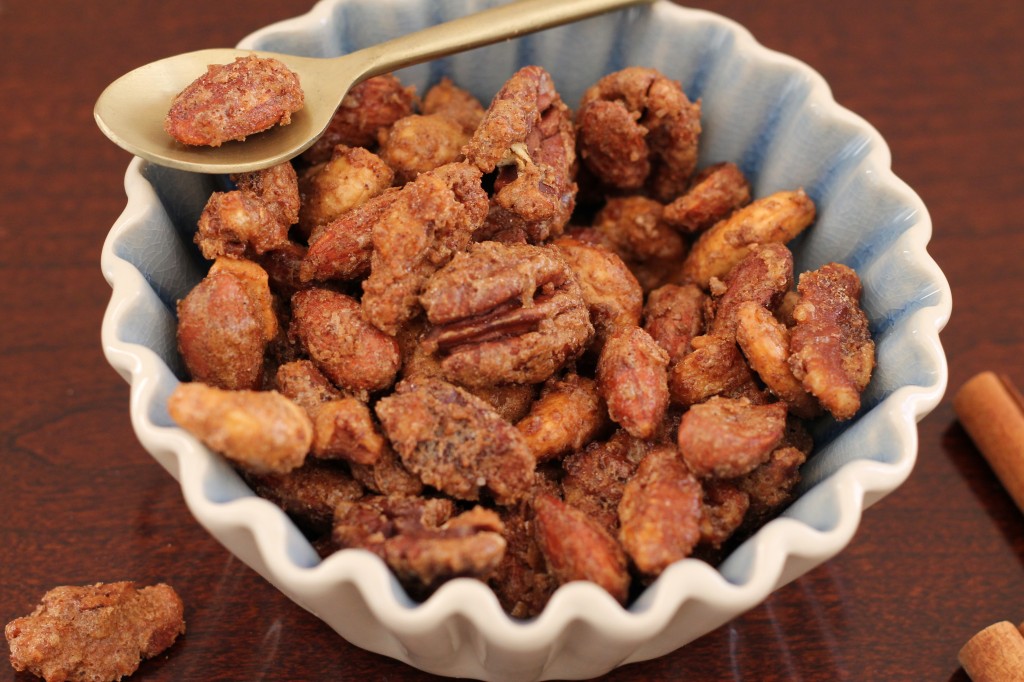 And for that, I gifted him these. These wonderful Cinnamon Spice Candied Nuts. Truly amazing treats, yes they are! He even told me that they make his "top ten" list of things I've made for him! Yes!!!
These nuts are an amazing gift, super easy, and very impressive to anyone who is bound to receive them. They'll love you for them! And you'll love yourself for having such an easy recipe in your back pocket.
You're welcome.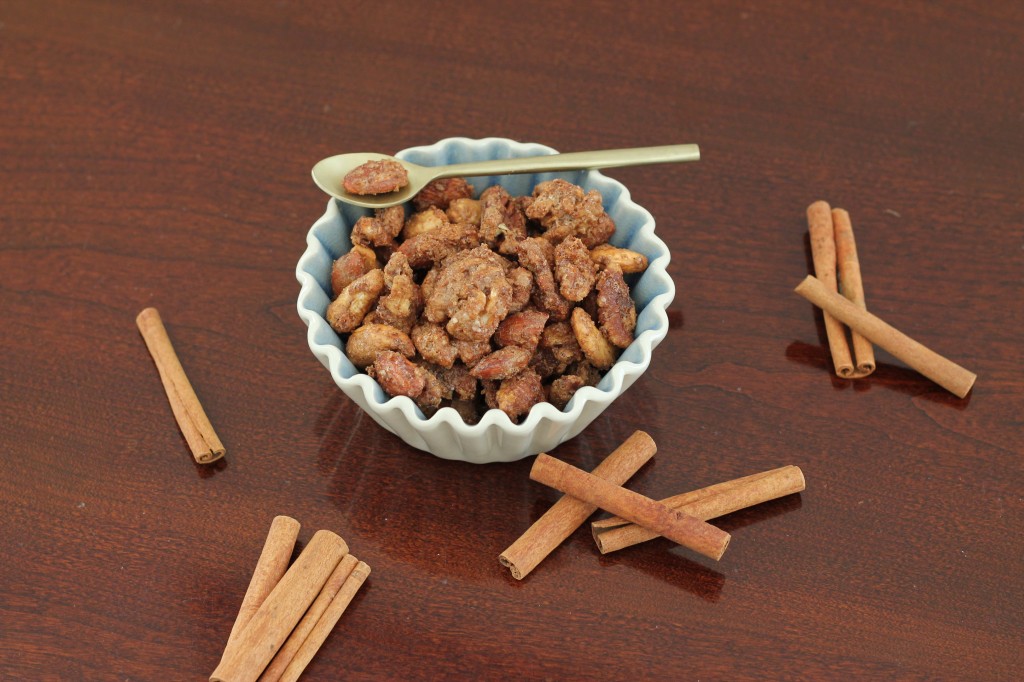 Cinnamon Spice Candied Nuts
3 cups mixed nuts (I used pecans, walnuts, almonds, cashews)
1 large egg white
1 Tbs. water
1/3 cup brown sugar
¼ cup raw sugar (or granulated or coconut sugar)
1 tsp. cinnamon
¼ tsp. allspice
1 tsp. coarse Kosher salt
~Preheat oven to 300 degrees F. Line a baking pan with parchment paper.
~In a large bowl, combine the egg white and water. Whisk them together until foamy and white, but not stiff (I used the whisk attachment on my KitchenAid 5 Speed Immersion Blender, which was a quick alternative to putting together my hand mixer or stand mixer, with a lot less clean up!). Then, add the nuts and use a large silicone spatula to stir the nuts into the egg white. Finally, use your fingers to break up and sprinkle the brown sugar over the nuts, and add the raw sugar, cinnamon, allspice, and salt. Stir until all of the nuts are covered.
~Pour the nuts onto the baking sheet and spread into an even layer. Bake for 35 min, stirring once half-way through. Remove the nuts from the oven and let them cool completely. (The nuts will dry completely as they cool if they seem a tad sticky when you pull them out of the oven.) Break the nuts up and put into jars or baggies for gifts! Enjoy!