Is there anything more comforting than a piece of toast with butter and jam? All warm, fragrant, toasty…
Maybe just a few things are better (snuggly puppies, hot cocoa by a fire, the perfect bowl of oatmeal…diamonds…cough cough)…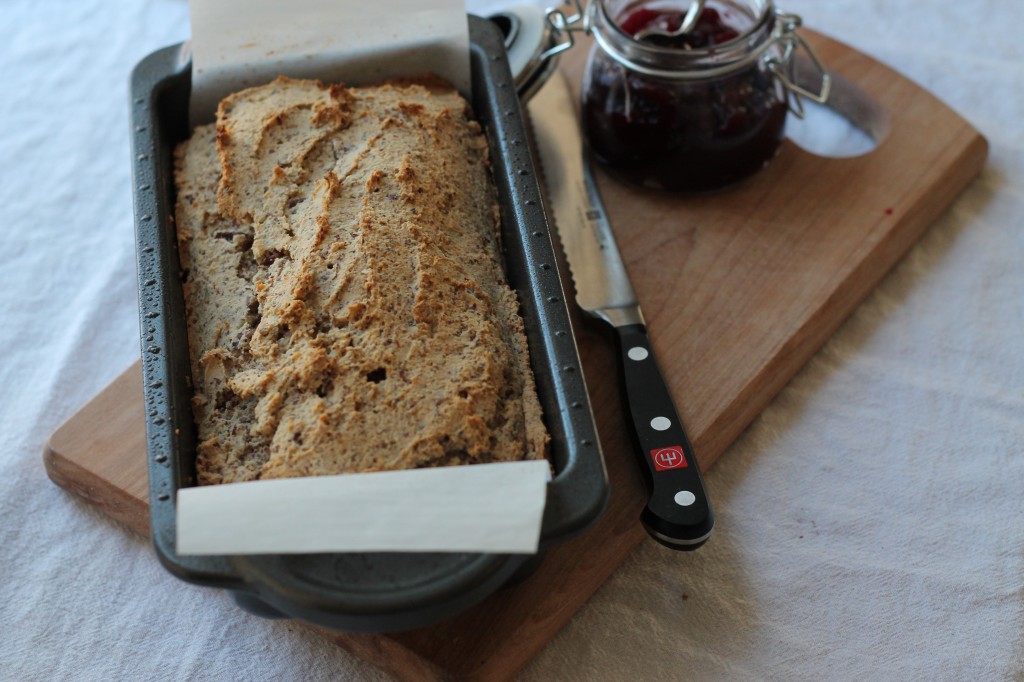 But I seriously find comfort in a good piece of toast. Now, whether you prefer to top yours with butter, coconut oil, a nut butter, jam, or an oozy egg, that's your business.
No matter what, everyone should be able to enjoy a piece of toast.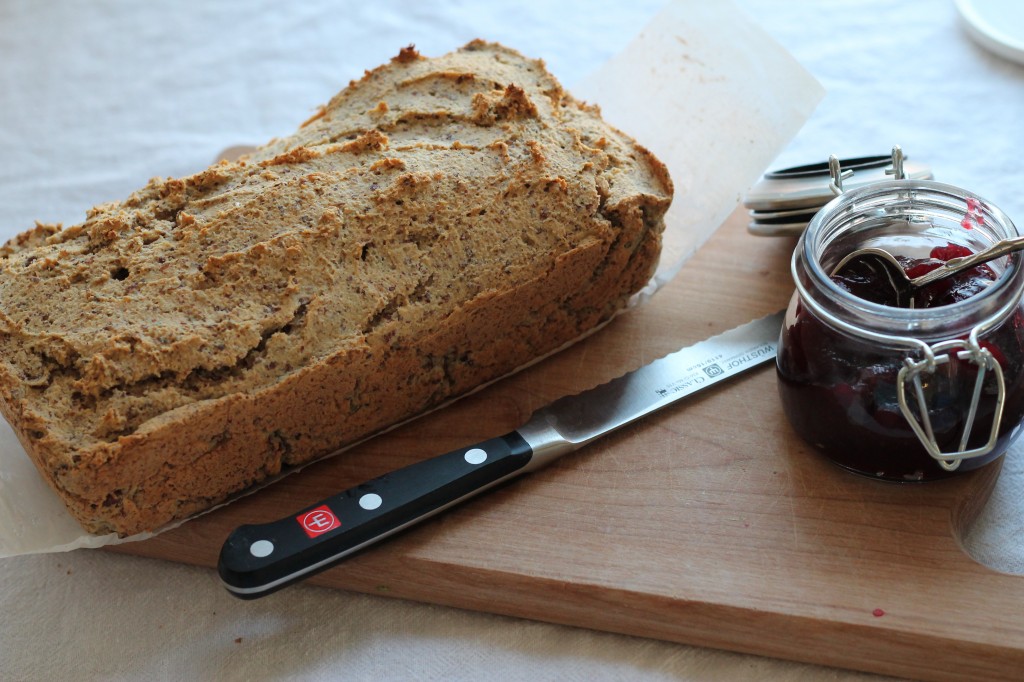 This cookbook, The Joy of Gluten-Free, Sugar-Free Baking touts just that.  I love that every recipe is made from a simple list of nut-based ingredients like almond flour, pecan flour, or coconut flour. I love that the recipes can be adjusted based on your food allergies. And I love that the result is a dependable, comforting loaf of bread, free of guilt and worry. I'm not burdened by those worries, but I love that these recipes are made for anyone and everyone.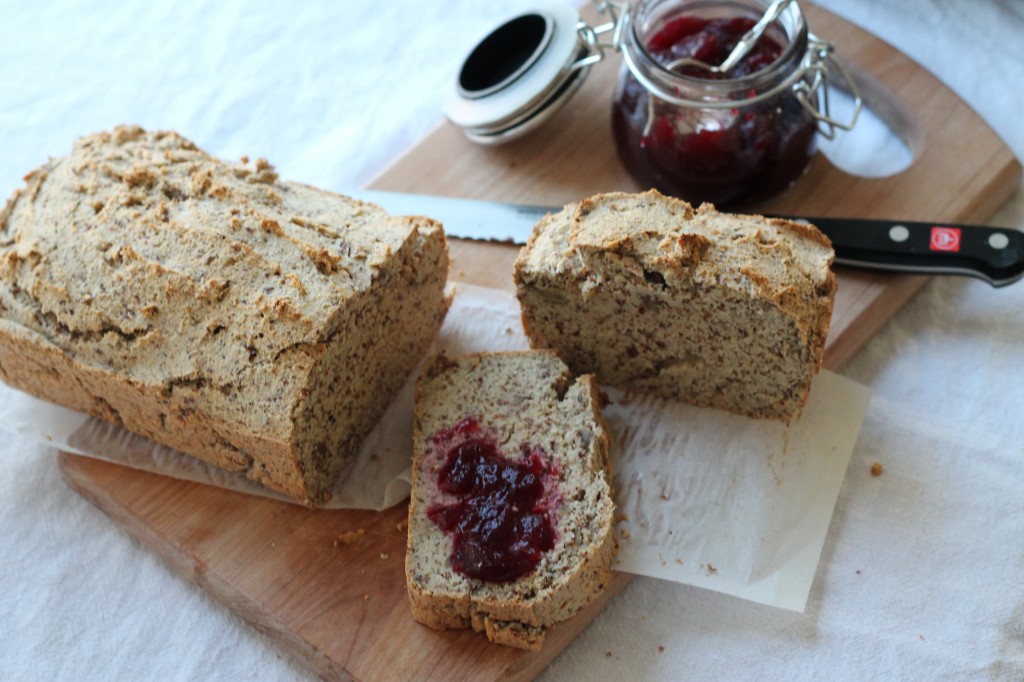 I made this loaf my own, of course, substituting some of my favorite ingredients, with amazing results. I love that it is delicate, like cornbread, but toasts up perfectly! Make this next time you're having guests for breakfast, or if you need to gift some comfort to a friend who has dietary woes. You won't regret it.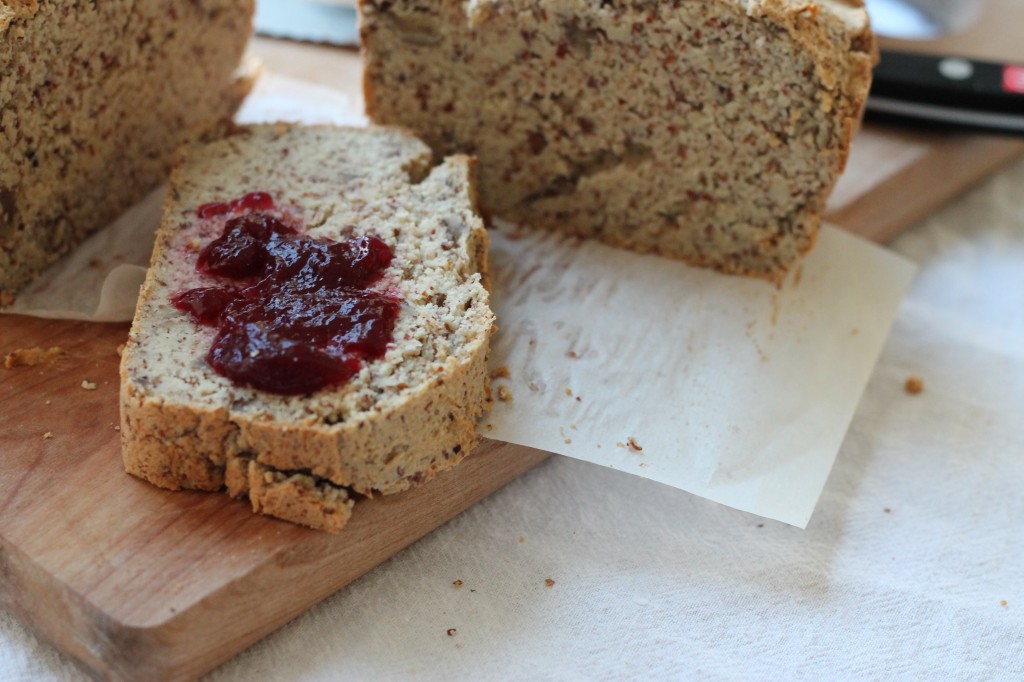 Nutty Bread (grain-free)
(makes one loaf)
2 ½ cups almond flour (almond meal)
½ cup coconut flour (or almond flour if you don't have it)
½ cup toasted, chopped pecans
¼ cup granulated Stevia (or Splenda or sugar)
4 tbs. baking powder
1 tsp. xanthan gum
½ tsp. salt
2 eggs
2 Tbs. flaxseed meal + ¼ cup water (mix together, set aside)
1 cup unsweetened almond milk
¼ cup melted butter (or coconut oil)
~Preheat oven to 375 degrees. Prepare an 8.5×4" loaf pan with nonstick spray and line the bottom with parchment.
~In the bowl of your mixer (or in a large mixing bowl), combine the butter, milk, eggs, and flax+water. Let the mixer beat the ingredients until they are well combined, 1-2 min on medium low speed (or stir vigorously).
~Then, add all of the dry ingredients together and turn the mixer to medium high speed and let the dough mix and aerate for 2 min (or stir vigorously by hand). The dough will be slightly fluffy, sticky, and thick. Spoon the dough into your prepared loaf pan and smooth the top.
~Bake for 40-45 min or until a test stick comes out clean. Let set for 5 min in the loaf pan, on a cooling rack before turning out of the pan. Then, let the loaf cool an additional 5 min before cutting and serving the loaf. If you plan on cutting and toasting the slices, let the loaf cool completely before cutting. ~This loaf tastes amazing with a smear of coconut oil, almond butter, or sugar-free jam! Enjoy!
Recipe adapted from: The Joy of Gluten-Free, Sugar-Free Baking by Peter Reinhart and Denene Wallace