I'm one of those people who can hunker down with a bowl of cereal, and call it a night. Yup, I prefer cereal for dessert.
I write a baking blog and bake treats during every spare second, and I prefer cereal for dessert. You now know the key to my heart.
Well, in hopes of trying to keep my favorite flavors sinful, sweet, yet not-so-guilty, I brought peanut butter and chocolate together in my cereal bowl! I was inspired the second I saw Shelly's Peanut Butter Cup Granola and knew that I had to lighten it up a tad and eat it immediately!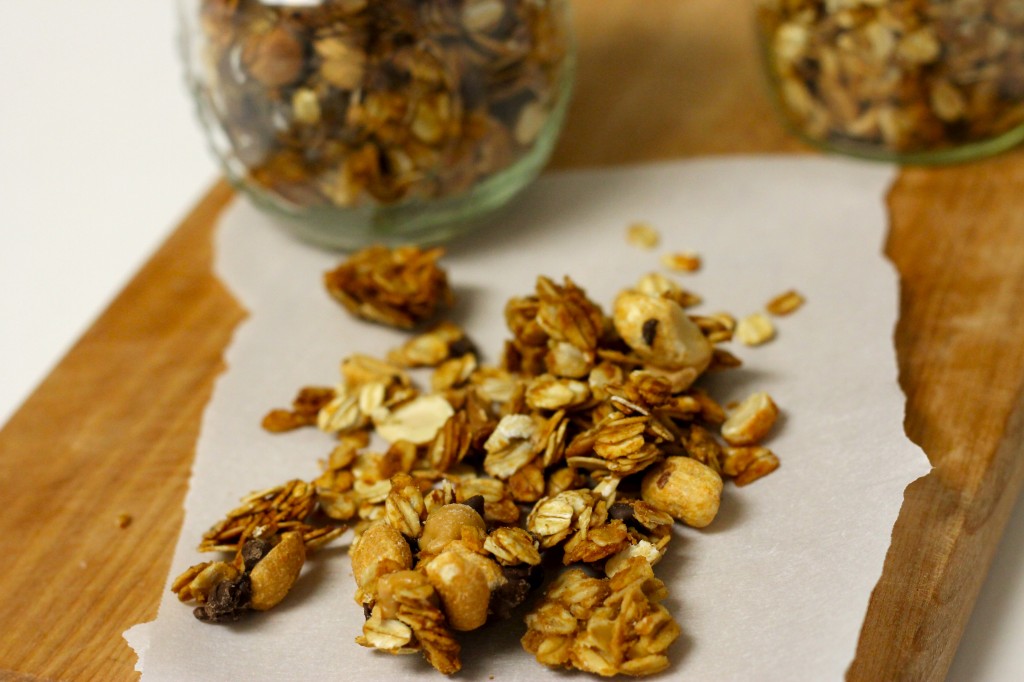 I absolutely love the result! It tastes like honey-peanut butter, toasty oats, and comforting chocolate. It stays in large, crunchy chunks and is amazing over Greek yogurt, in some almond milk, or over some frozen yogurt!
I'm totally all for dessert granola! Hooray!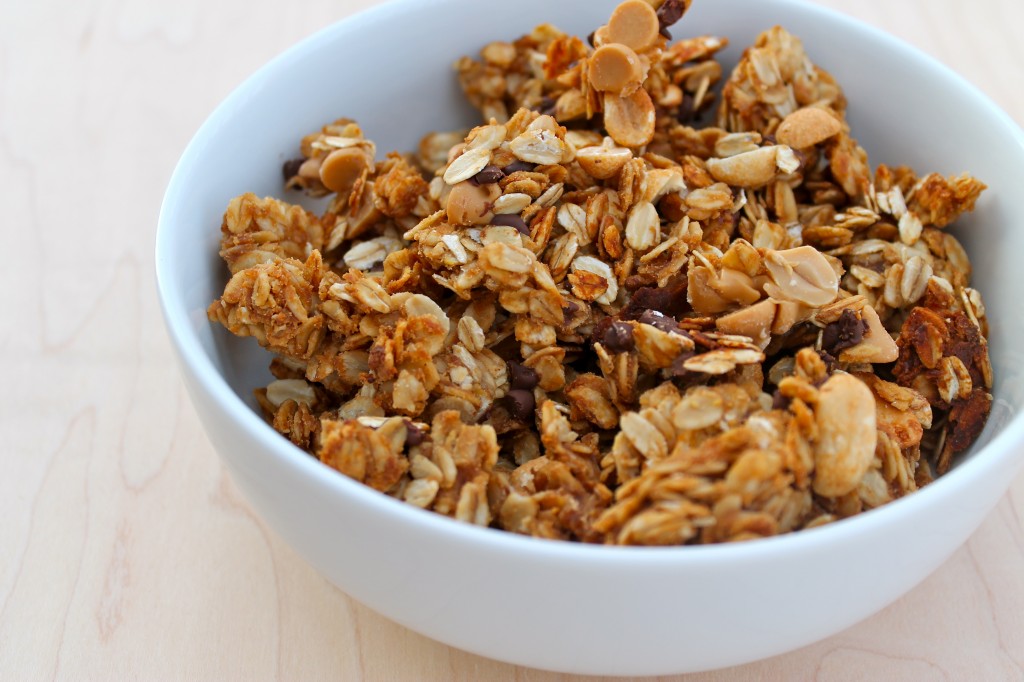 Reese's Peanut Butter Chip Granola
½ cup creamy peanut butter (I use Jif Natural)
1/3 cup honey
¼ cup unsweetened applesauce
½ tsp. cinnamon
1 tsp. vanilla
4 cups old fashioned oats
½ cup dry roasted peanuts
1/3 cup semisweet mini chocolate chips
1/3 cup peanut butter chips
~Preheat oven to 300 degrees F. Line a deep sided baking pan with foil, then spray with nonstick spray. Pour all of the oats into the prepared pan.
~In a microwave safe bowl, combine the peanut butter, honey, and applesauce. Microwave for 2 minutes, stirring every 30 seconds. Then, remove the bowl from the microwave and stir in the cinnamon and vanilla. Pour this mixture over the oats and stir with a silicone spatula (and maybe your hands) until all of the oats are coated.
~Bake the oats for 35 min, stirring occasionally. When the bake time is up, turn OFF the oven! THEN, stir in the peanuts and put the pan in the OFF oven, to set for 1 hr and 30 min! THEN, sprinkle the chocolate chips and peanut butter chips over the granola, and return to the oven for 5 more minutes (to slightly melt the chips).
~Remove the pan from the oven and let cool completely. When it's completely cooled, stir and break up the largest chunks. Store in an airtight container as you eat it! Gobble it up and share with friends!! Enjoy!
*Recipe adapted from Cookies and Cups: Peanut Butter Cup Granola