I don't know about you, but I've been making a ton of cookies lately.
Don't get me wrong, I absolutely love cookies. And I love baking cookies, but it can get exhausting.
That's why I love having simple, yet interesting recipes that can be thrown together in a snap. A no bake treat? Even better!
These feel very appropriate at the moment, too. I think that in light of recent events, we need to not forget to thank our teachers. I don't have kids of my own, but I know that thanking our teachers and showing them love and appreciation during the holidays is very important.
I know that your list of "gifts to buy ASAP" is probably a little too long, and your budget is pretty close to nill (zilch, nada), so a little treat, like these Apple Cinnamon Cereal Bars, are perfect! They show you care, they're super easy to make, and they're way more fun than handing your teacher an apple.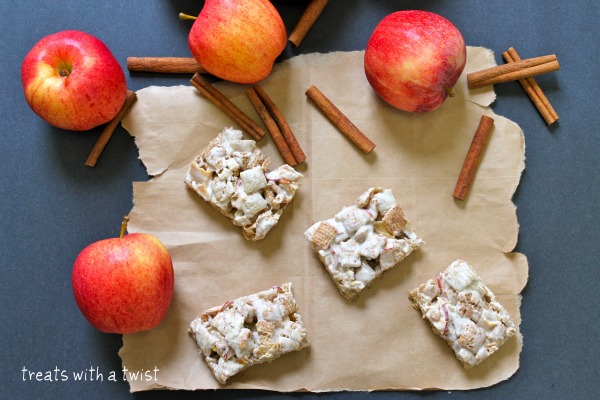 Apple Cinnamon Cereal Bars
(makes one 9×13" pan of bars)
3 Tbs. butter
10 oz. mini marshmallows
5 cups Cinnamon Apple Chex cereal
1 cup broken/chopped Cinnamon Apple Chips (Seneca)
~Line a 9×13" baking dish with parchment and nonstick spray. Set aside.
~Stove Top*: In a deep sauce pan, melt the butter over medium low heat. When the butter is melted, add the 10 ounce bag of mini marshmallows and stir with a silicone spatula. Stir until the marshmallows are completely melted. Turn off the heat. Carefully stir in the Chex cereal and the apple chip pieces until it is completely mixed (try not to break up the cereal too much).
~Transfer the mixture to your prepared baking dish. Carefully spread and press the mixture into an even layer in the dish (I like to spray my fingers with nonstick spray and use my fingers to press out the cereal bar mixture). Let set for at least 30 minutes before cutting into bars (use a sharp knife, sprayed with nonstick spray).
~Gift the whole tray of cereal bars (covered in plastic wrap) or individually wrap each bar in plastic wrap. Enjoy!
*You can use a microwave instead! In a large glass (microwave-safe) bowl, microwave the butter until melted. Then, add the marshmallows, and stir to coat them with butter. Put the bowl back in the microwave and cook for 1 minute. Stir, and cook 30 more seconds, until the marshmallows are completely melted. Then, stir in the cereal and apple chips. Continue with the final directions!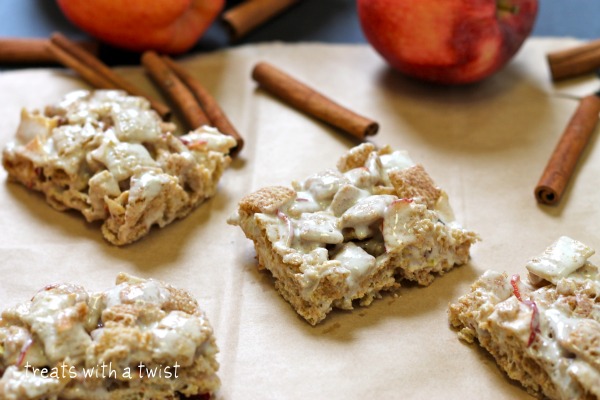 These bars are for my best friend, Hannah, who is a teacher.
Hug a teacher, please. Or give them a cereal bar
or both.