I couldn't sleep last night. I woke up around 1am, and for hours, I couldn't fall back asleep.
Visions of Valentine's Day treats were dancing through my head…to a soundtrack of modern pop radio.
At least my thoughts come with a radio station.
I'd say I got 5 solid new recipes out of my insomnia…we'll see if any of them get completed before V-day (that's the hard part!).
And the lesson of the story is: don't take your caffeine-spiked vitamins before bed.
Anyways, while I'm still contemplating how carried away I'll get with the upcoming "holiday" (chances are I'll forget about it until the day before, so don't hold your breath) I did get an amazing, comforting loaf of banana bread baked for you!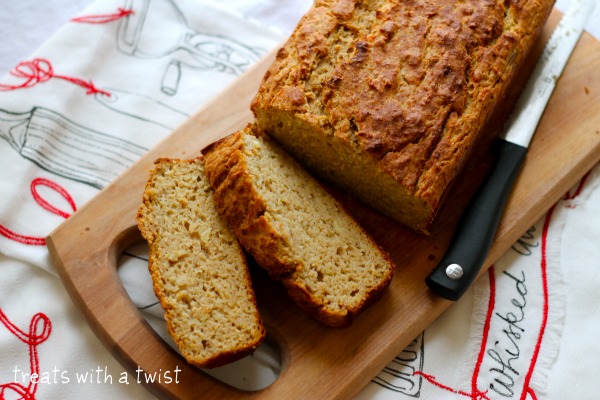 But this isn't just any banana bread. Oh no. It's Apple Banana Bread!
It is low in fat, low sugar (because the combo of sweet, over-ripe bananas and sweet shredded apples doesn't need much more sweetness) and very satisfying. It's perfect to brighten these bleak winter days we just got stuck with.
Give it a try! And invite a neighbor to emerge from their warm cave and share it with you (I'm told socialization is good for you…)!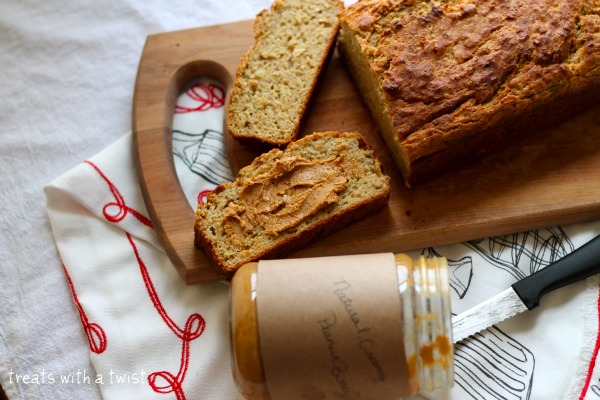 Apple Banana Bread
(makes one 9×5" loaf)
2 cups white whole wheat flour (or gluten-free flour mix)
3 tsp. baking powder
½ tsp. salt
½ tsp. cinnamon
3 small, over-ripe bananas, mashed
1 apple, shredded
½ cup granulated Stevia
¼ cup plain Greek yogurt
¼ cup coconut oil
2 eggs
~Preheat oven to 350 degrees F and prepare your loaf pan with nonstick spray.
~In a bowl, combine all of the dry ingredients and set aside.
~In a large mixing bowl, combine the shredded apples and mashed bananas; add the Stevia and start mixing (I used a hand mixer, set to medium-low speed) until completely incorporated. Add the eggs, one at a time, mixing between each addition. Then, add the Greek yogurt and the coconut oil and continue to mix for at least another minute.
~Add all of the dry ingredients and carefully mix everything together until the batter is just incorporated. Pour the batter in your pan and bake for 1 hour, 5 min, or until a test stick comes out clean.
~Let the loaf cool on a wire rack before turning it out of the loaf pan and serving it, sliced and warm. Wrap the loaf in plastic wrap to keep the leftovers fresh for your next breakfast! Enjoy!
PS thank you for all of your entries in my EnergyBits Giveaway!