I had an amazing weekend.
I went and visited my parents for another round of wedding planning.
We were on a roll! My mom and I found my wedding shoes AND the invitations that I want to order. I am totally on Cloud 9! My shoes are gorgeous and I even wore them while helping my mom fix dinner Saturday night (I didn't want to take them off!).
I finished the weekend on Sunday morning at the shooting range with my daddy. I had never shot a gun before, and learning how to shoot it the right way, safely, was…enlightening.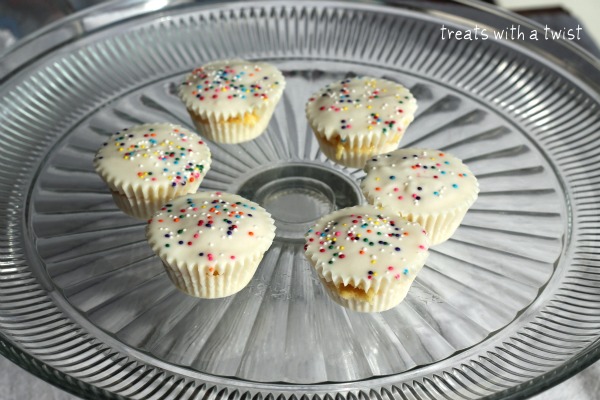 I am also very proud of myself for following my new trainer-set diet the whole weekend. I'm talking no sneaking treats and no nibbles of sweets, which is pretty much impossible at my parents house because I always feel like I'm on vacation there. But I was really good because I knew that this morning (Monday morning) I had my final Diet Bet weigh-in, and it would be totally worth it to not cheat this weekend.
That doesn't mean I'm not totally prepared for my victory treat. Have you met me?!?!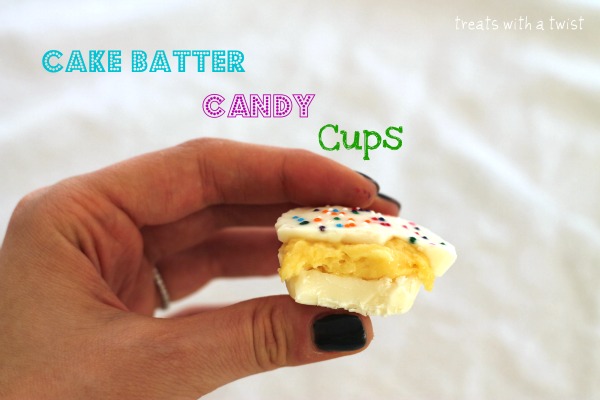 I love little treats like this one! It looks like an unassuming white chocolate peanut butter cup…until you bite into it! And you find the shocking delicious cake batter filling! Yes, cake batter!
So you get chocolate (yummy white chocolate), cake batter, AND sprinkles, all in one little bite! Pop two or three, I won't tell anybody if you don't
Cheers to being good! It pays off!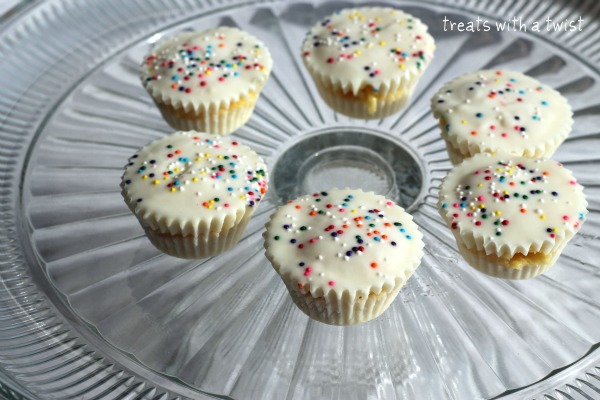 Cake Batter Candy Cups 
(makes 10 candy cups)
2/3 cup white chocolate, melted, divided (I used Almond Bark)
1 cup yellow cake mix (I've used Sugar-Free Yellow and gluten-free mixes, but use your favorite!)
2 Tbs. water
sprinkles, for decorating
~Spray 10 mini muffin liners with nonstick spray (yes, spray the paper liners). Place the liners in a mini cupcake tin for stability.
~Melt 1/3 cup (2 Almond Bark rectangles). Divide it evenly among the sprayed cups.
~Mix the cake mix with the water. It needs to be very thick. Carefully spoon an even layer into each cup (there may be a little leftover).
~Melt the rest of the chocolate (2 more rectangles). Top each candy cup off with the melted chocolate, making sure the batter layer is covered. Sprinkle on sprinkles. Let set (I popped mine in the fridge) before removing the paper liners! Enjoy!