Today's post is up a little late, but better late than never, right? I want to tell you a little tale, and I'll break it up with a few pictures of eats from the week, ok?
Last week, I had a bit of an awakening. While my trainer was out of town, she had me workout with the other trainer at the gym (they're kind of a dynamic duo). So, while working out with the other trainer, Joe, we were talking about my weight loss journey and current effort.
Not to go into to much detail, but food has always been a mental struggle for me. And in an effort to lose weight in a healthy manner, in the back of my mind, I always try to only follow "diets" that I know will be lifestyle habits, not a fad that will cause me to gain the weight back in the end, because I could never cope with those setbacks.
Thus, although he had initially asked me to eat a certain number of carbs per day, I met him at about 85% of the way because I didn't want it to be my downfall 6 months from now. Well, he wasn't too happy about that. He was happy that I cut my carbs so dramatically, but in his "all or nothing" mindset, I wasn't doing it. We playfully bickered back and forth until he said something that really struck me…like a semi-truck…
"Aren't you ready to be done yet?"
It was in reference to being on this weight loss journey for about 4 years now. Am I ready to be done? Plain and simple.
Yes.
Nothing has been more emotional and thought-consuming over the last 4 years as this weight. And the fact that I've had some real setbacks due to health problems (totally unavoidable), has made it even harder. It's completely devastating to not only never be able to clearly see your progress in the mirror, but also to gain 10 pounds while still working out, eating clean and healthy, simply because your hormones are deciding to play their own game.
It's scary that I don't have control over how my weight fluctuates no matter how hard I work.
Anyways, I have been getting the hormone side of it under control, so I feel a bit more confident now that if I do exactly what is needed of me, I can be done. Yes, done. Officially enter "maintenance mode" and live my life in peace. I'm ready for that. I deserve that.
So, ever since that talk, I've kept telling myself that I deserve to be done. That it is extremely hard work and I'm ready for it. And that I deserve to really focus on myself. I started following exactly what he wants me to eat after I walked out that door.
This said, I'm going to get my butt ready and out the door because I have a deep tissue massage awaiting me. I deserve to not be in pain every waking moment of the day. I can't believe it's taken me this long to realize it.
Silly me.
 The Sweaty Breakdown: 
Friday (2/1/13): I received the "carb and lifestyle" lecture of my life today from one of my trainers. Then, I did a total body circuit that KILLED my shoulders and back for three days!
Saturday: I had a very lousy one hour cardio session. I was tired and sore (should have taken a rest day) but I did 30 min on the bike then 30 min on the elliptical.
Sunday: I did a 40 min HIIT workout today to make up for yesterday. Here it is: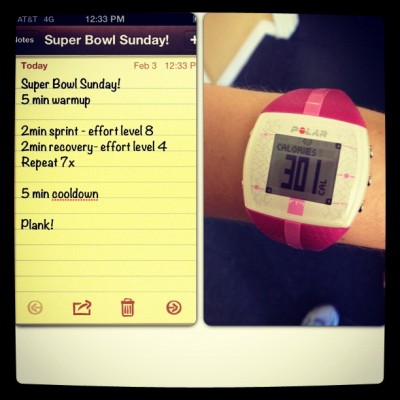 (On the treadmill)
5 min warm up
2 min sprint – effort level 8
2 min recovery – effort level 4
repeat x7
5 min cool down
PS It was totally Super Bowl Sunday today, and because my fiance had to go out of town for business, I just made a simple, healthy dinner, and rooted on my team!!
Monday: an early morning HIIT (repeat from a few weeks ago):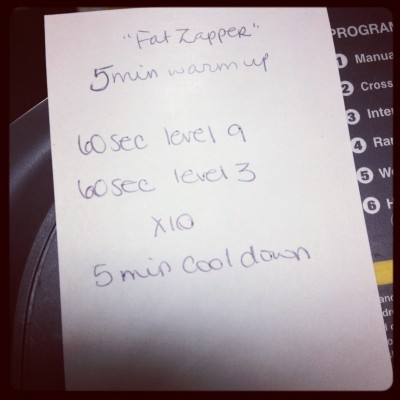 Tuesday: rest day!!!
Wednesday: 30 min training session with my trainer doing a 20:20:20 circuit (doing 20 reps of an exercise, back-to-back-to-back with less than 10sec rest between)
Thursday: rest day!!! And I totally need it, because my fiance is finally home from his business trip and I've been dragged up and down the halls by the dogs long enough. I need a real rest day.
Friday: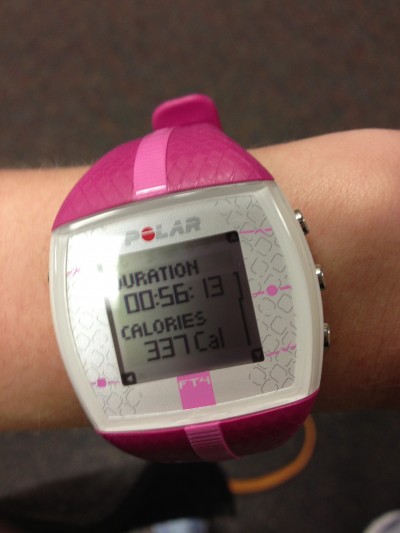 Today I met with my trainer and did a total body circuit. We finished the circuit by "working to failure" – so, after a complete workout, I then did pushups until I could literally do no more (collapse!), bicep curls, tricep dips, and shoulder circles (forwards and backwards) until I literally couldn't lift my arms anymore. Somehow, I managed to shake up a protein shake and drive away, arms trembling, smile on my face.
This week, on the blog, I made: 
Chocolate-Dipped Valentine's Marshmallow Pops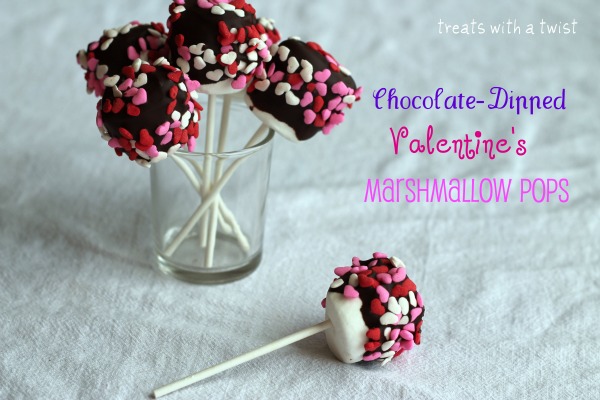 Dark Chocolate-Covered Strawberries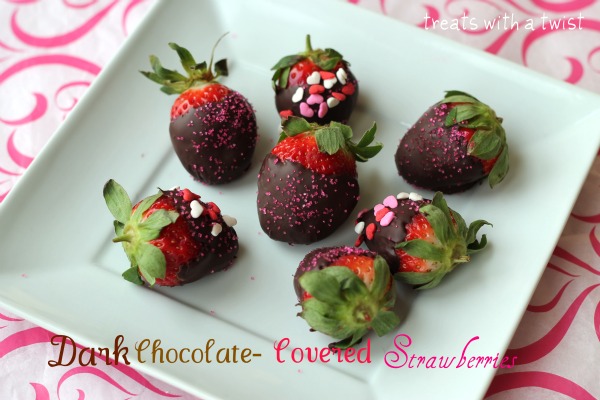 and Chocolate Delight Popcorn Mix (aka "cookies and cream" amazing mix!)
Strike up a conversation: How was your week? Any big revelations?