Hey guys! So I decided I'm going to mix things up today for Fabulously Fit Friday. That's simply because I have an amazing recipe to share with you, a yummy protein product I want to brag about…then the Sweaty Breakdown! Mmkay? Sound alright? Good (because that's just how it's going to be!).
So, let's start with my Fabulous Fitness Find!
Designer Whey Protein
I was recently asked to review an array of products by Designer Whey. Although I jumped at the opportunity, I'll have to admit, I'm always skeptical of new-to-me products that have healthy claims. I practically held my breath as I opened the box and immediately flipped each product over to tread the nutrition panels…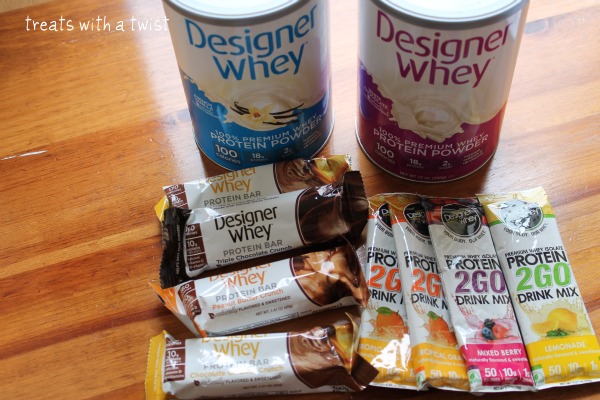 What a pleasant surprise! I could exhale with a smile on my face, because I knew immediately that these were products that I could use in my everyday healthy lifestyle and current carb-conscious diet!
The powdered protein (French Vanilla and White Chocolate flavors) has only 100 calories per serving, 6 grams of carbs, and 18 grams of protein! Plus, they're gluten-free, naturally sweetened, and contain BCAAs (which seem to be the newest "it" product for your workout nutrition and recovery, and can be pricey if you have to buy them separately…which is why I've yet to integrate them into my routine).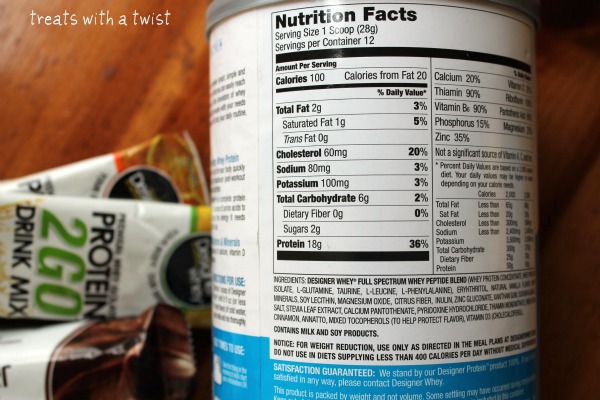 I put the protein powders through the ringer too! I mixed them into yogurt, my morning oats, made protein TVP with them, made a variety of shakes, make cookies (recipe below!), and of course, mixed them with just water.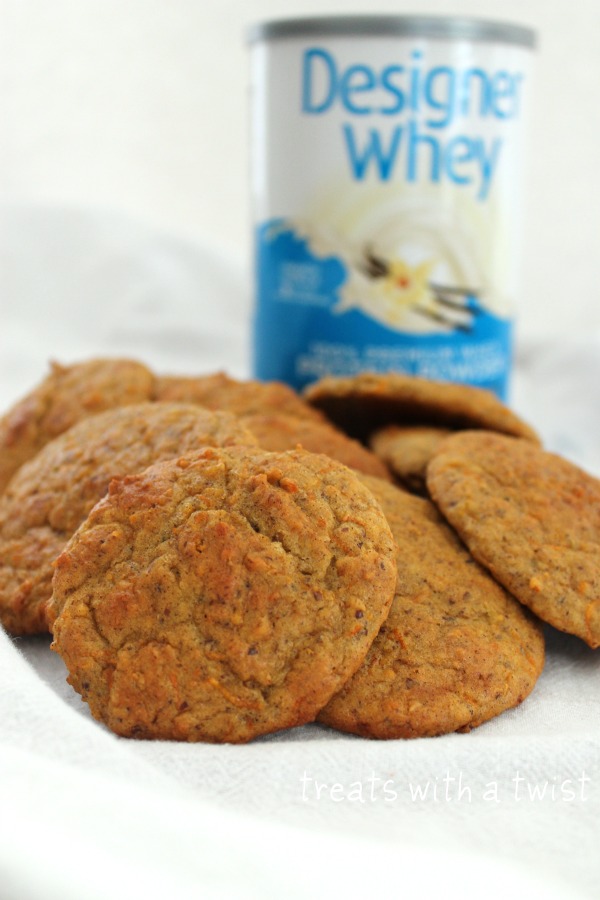 I loved the flavor and my only slight complaint is that they don't get thick enough in my oats or shake, but I didn't mind adding a pinch more xanthan gum to remedy that.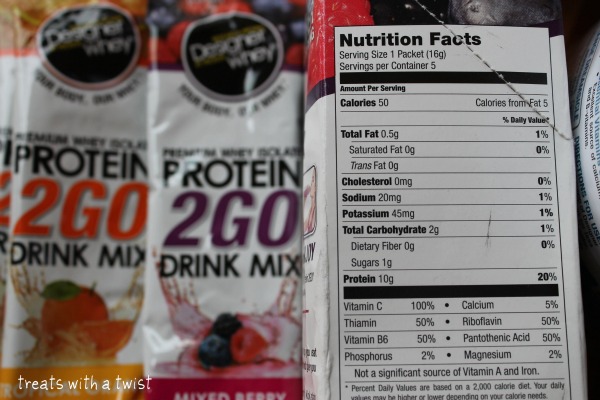 I also loved their Protein 2 Go packets. They mix up in water, creating a flavored water drink, high in protein (10 grams), and low in calories (50 calories) and carbs (2 grams). They remind me of the Special K Protein Water bottles I used to drink in college to stave off hunger during long lectures, which I totally loved back then, and still love the concept now. I also appreciate that they have a strong flavor in 16 oz of water, letting me sip my drink for a lot longer than some drink packets that tell you to mix them in only 8 oz of water. The flavors are Mixed Berry, Lemonade, and Tropical Orange and I definitely liked the Tropical Orange the best, though I liked the Mixed Berry a lot too!
The only product I have yet to try is the variety of protein bars. The flavors sound good, but because there are 20 grams of carbs per bar, they just don't fit into my current dietary restrictions. But, they have only 160 calories and 10 grams of protein, so I'm sure I'll find myself snacking on one on my next road trip, or chopping up part of one to sprinkle over some Greek yogurt!
So, remember how I mentioned that I made cookies with the protein powder?? Well, here's the recipe! And, my fiance even gobbled up THREE of them, telling me that they taste just like carrot cake! He had no idea that they contained a healthy dose of protein
He even requested that I make a carrot cake loaf with the exact flavors next time! Sure thing, babe.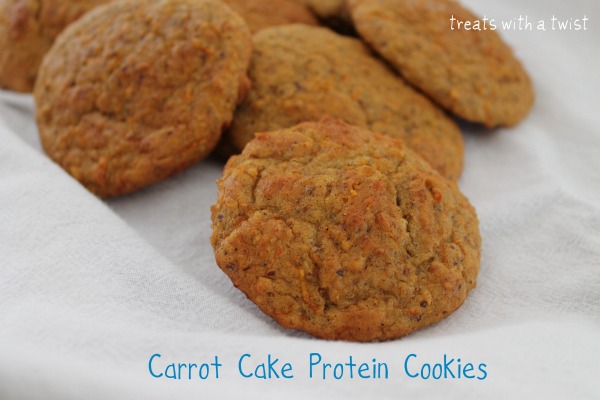 Carrot Cake Protein Cookies
(makes 15 cookies)
¾ cup oats, ground into flour
1 ½ scoops French Vanilla protein powder (Designer Whey)
½ cup almond flour
½ cup granulated Stevia (or sugar/sweetener of choice)
½ tsp. salt
½ tsp. baking soda
¼ tsp. baking powder
1 egg
1 tsp. vanilla extract
2 Tbs. plain Greek yogurt
2 tsp. cinnamon
¼ tsp. allspice (or nutmeg)
1 cup loose packed freshly grated carrot (appx. 2 large carrots)
~Preheat your oven to 350 degrees F. Line 2 baking sheets with parchment paper.
~In a large mixing bowl, combine the oat flour, protein powder, almond flour, Stevia, salt, baking soda, and baking powder. Stir to combine.
~Create a well in the center of the dry ingredients and add all of the wet ingredients and spices. Mix until the dough comes together. Finally, add the grated carrots and mix to combine.
~Drop the dough (about a Tablespoon) onto the cookie sheets, well spaced. Bake for 12 minutes, or until the tops start to get golden brown. Let the cookies cool on a wire rack before serving. Enjoy!
Umm…yum! Right?? Thought you'd like that!
Now, on to the Sweaty Breakdown!
Friday: today I worked with my trainer on legs and abs. We had a discussion on using bigger, heavier weights and how to approach "maintenance mode" since I'm just about there!
Saturday: I took my dog for a walk then I tackled 45 minutes of cardio on the bike and elliptical
Sunday: I took a rest day. I was extremely exhausted, had spent the day house hunting, and was also very sore. Sometimes, rest is best.
Monday: I woke up early for a HIIT session on the treadmill.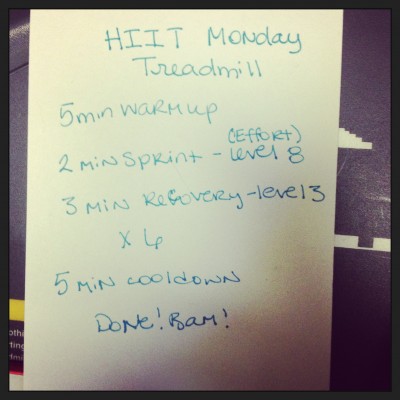 Tuesday: Rest!
Wednesday: I worked with a trainer (not my usual trainer, since she had an emergency and couldn't be there) on a total body circuit! My shoulders and abs are still sore!
Thursday: I took today as a rest day! I went to a book signing! I was really excited about it and will probably do a post on it
Anyways! So that was my week! Enjoy those cookies!
How was your week?
The obligatory fine print: I was sent Designer Whey protein products to try, free of charge and through connections by FitFluential, LLC. I was not monetarily compensated for my review or amazingly awesome cookie recipe, and the opinions (and said cookie recipe) are 100% my own.
Finally, the winners of my Clif CRUNCH Giveaway are: Laura, Jillian, and Rose! You have been contacted via email. Thank you, everyone, for all of your entries!