Confession.
I had cookies for breakfast.
Ok, so maybe not cookies like what you think of cookies. But I had pancakes that tasted like cookies. And wait a sec, isn't that technically having cake and cookies for breakfast? Sheesh, I'm on a roll!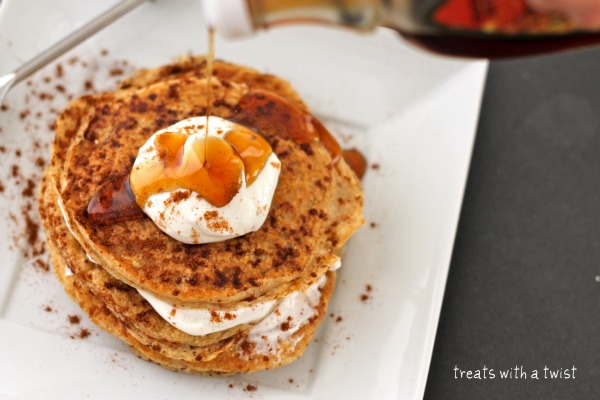 Guilt? Nope, I don't play that game anymore. Just pure enjoyment.
Plus, no need to step anywhere close to the guilty line, because seriously, these oatcakes are actually incredibly healthy! What a balanced breakfast. You've probably fallen out of your chair by now, thankful for me and my brilliance. I understand.
So here's how this happens:
Make your batter and start cookin!
Sprinkle on some cinnamon!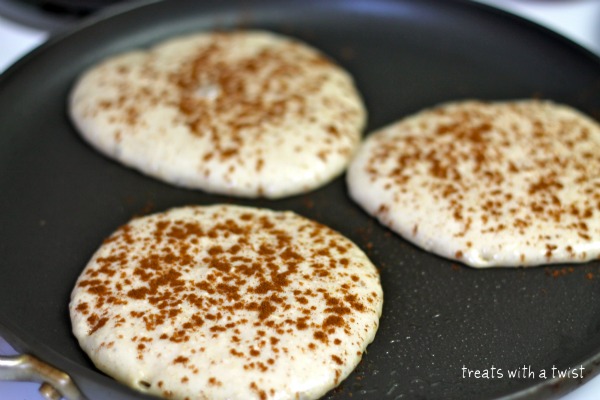 Sprinkle cinnamon on the tops of each and stack um up with the Snickerdoodle Cream.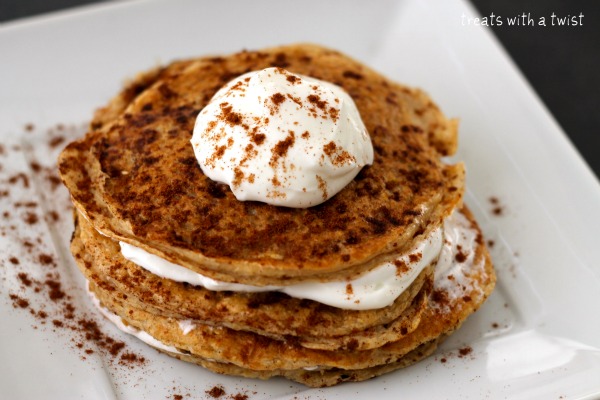 Maybe…drizzle on some maple syrup? Yes! (It's a food group, Buddy said so.)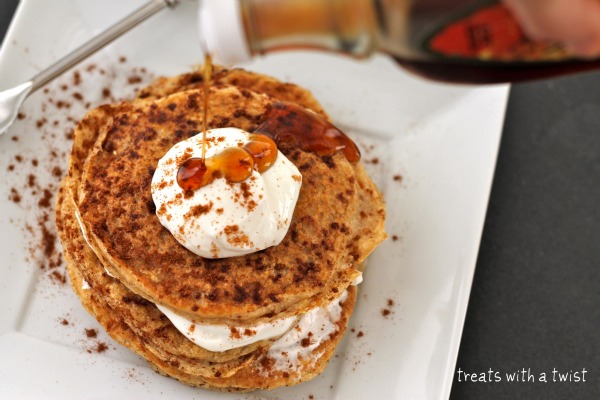 Enjoy!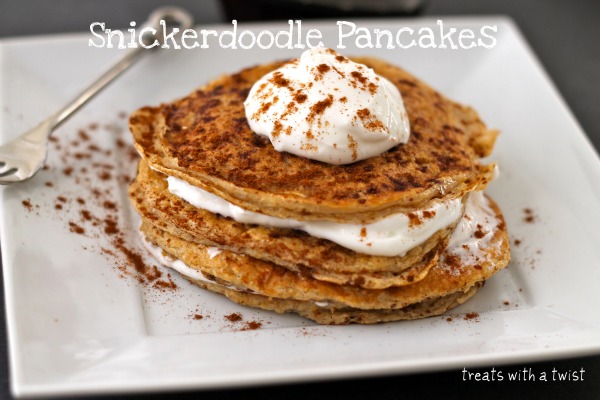 Snickerdoodle Pancakes with Snickerdoodle Yogurt
(makes 1 portion, 4 pancakes)
Snickerdoodle Pancakes:
1/3 cup oat flour*
2 tsp. granulated Stevia
¾ tsp. baking powder
¼ tsp. xanthan gum
pinch of salt
¼ tsp. plain Greek yogurt
¼ cup egg whites**
3 Tbs. unsweetened almond milk**
1 tsp vanilla extract
1-2 tsp. cinnamon, divided (see method)
Snickerdoodle Yogurt:
½ cup plain Greek yogurt
2 tsp. granulated Stevia
½ tsp. vanilla extract
½ tsp. cinnamon
*I make my own oat flour by blending old fashioned oats in my mini food processor until it's very fine.
~First, make the Snickerdoodle Yogurt to let the flavors develop while you're making your pancakes. Combine the yogurt, Stevia, vanilla, and cinnamon in a small bowl. Mix well, cover with plastic wrap and place in the fridge until you're ready to use it.
~Make your Snickerdoodle Pancake batter. In a mixing bowl, combine the oat flour, Stevia, baking powder, xanthan gum and salt. Then, add the yogurt, egg whites, almond milk and vanilla. Stir until completely combined.
Set the batter aside as you heat your skillet.
~Heat a nonstick skillet over medium heat, sprayed with nonstick spray. When the skillet is ready, spoon the batter onto the skillet (I cook 2-3 pancakes at a time, using just under ¼ cup of batter per pancake). Cook the pancakes for 3 minutes, or until bubbling slows. Sprinkle each pancake with cinnamon before flipping. Finish cooking the pancakes for a few more minutes on the other side.
~As you take the pancakes off the skillet, brush them with a little coconut oil or melted butter and sprinkle with a bit more cinnamon.
~After all 4 pancakes are cooked and sprinkled with cinnamon, layer them on your plate with the Snickerdoodle Yogurt. I like to add a thin layer of the Snickerdoodle Yogurt between each pancake and dollop the rest on top. Finish with a bit more cinnamon and, if you desire, syrup. Enjoy!