I'm a complete wierdo when it comes to caramel apples.
First of all, I hate caramel-apple-flavored things. I think. Usually.
I used to LOVE everything green apple. I would dive for the green apple Blow Pops, dig out the green apple Jolly Ranchers, and I jumped for joy when Skittles ditched the lime flavor for green apple for a special promo. Totally all about it.
Then…well, I had a crazy "young adult" evening that involved a bit too much green apple Smirnoff in my green apple Sonic slushie… 'nuff said. Should have just told you I chugged too many caramel apple ciders at Starbucks, but its already out there.
Ever since, those caramel-apple-flavored goodies remind me of green apple grossness and I just can't do it. Not even fond memories of getting caramel apple suckers stuck in my palate expander as a pre-teen can make me try them again. Sad.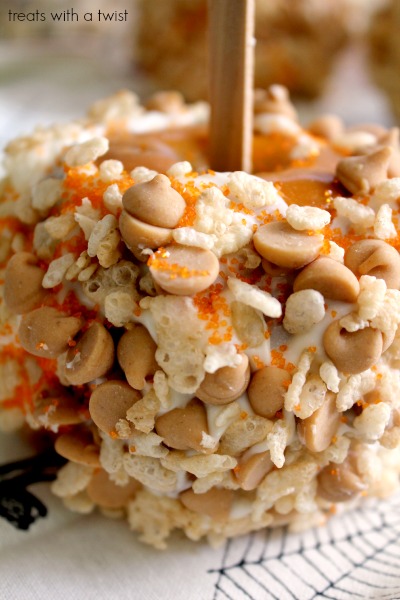 Anyways, I make the BEST caramel apples. Weird, right? Well, I don't use green apples anymore. You are totally welcomed to. I'll stick with red or Fuji or Honeycrsip. Not green.
My mom starts buzzing about my caramel apples sometime around late August, so when Fall is in full swing, it's definitely time to bust them out! I always come up with a crazy coating for them, making them chunky, sweet, and totally irresistible!
Last year, it was my Cinnamon Pecan Caramel Apples, which were crazy good. This year, it's my Peanut Butter Krispie Caramel Apples! I can't even begin to tell you how crazy delicious these are! Who doesn't love Rice Krispies and peanut butter chips?!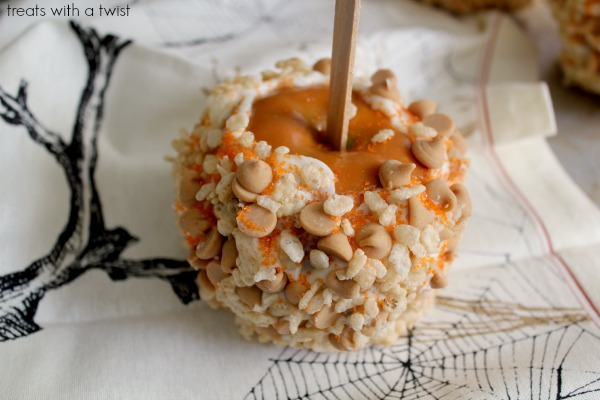 Plus, I can totally pull a fast one on you and tell you that you must eat these because they're totally healthy…you know, because it's apples and peanut butter and gluten-free Rice Krispies…total health food.
Using the Caramel Apple Wraps couldn't be any easier! They are mess-free, SO easy, and taste amazing (I'm not a total caramel snob like some people. I prefer my caramel in front of my face and on an apple, and that's about it.). You could totally be that person that hands out Peanut Butter Krispie Caramel Apples at Fall parties…or that person who sits at home shoving Peanut Butter Krispie Caramel Apples into their gob as they watch Scandal episodes in the dark (like me). Either way, you need these!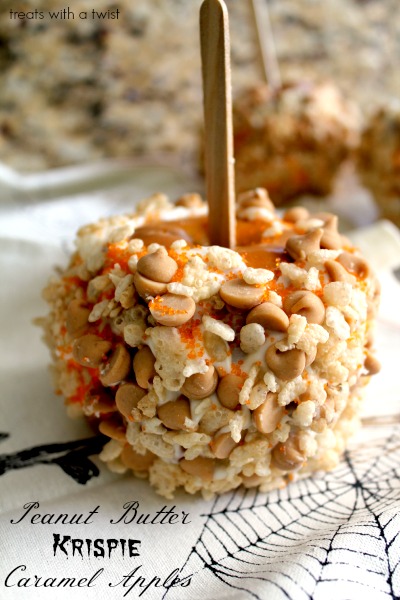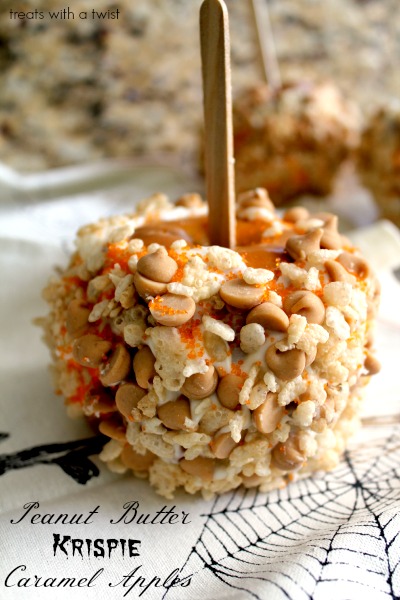 Peanut Butter Krispie Caramel Apples
2013-10-22 12:24:09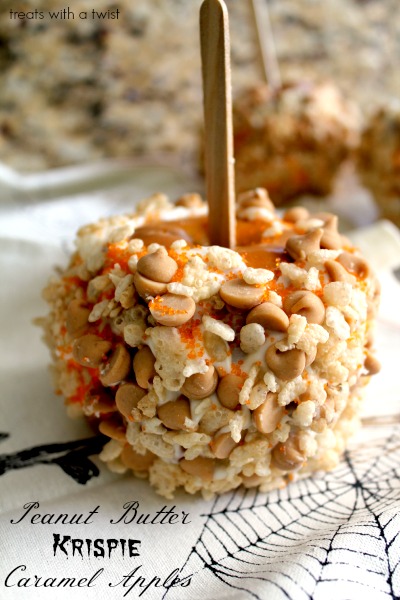 Your favorite sweet, crisp, Fall apples, draped in caramel, coated in white chocolate, then rolled in peanut butter chips and Rice Krispies cereal and sprinkled with festive orange sugar sprinkles! Caramel apples have never been so simple and so delicious!
Ingredients
Apples*
Caramel Apple Wraps
White Chocolate (I used Candy Quick, but Almond Bark works well too)
Peanut Butter Chips
Rice Krispies Cereal
Orange Sparkling Sugar Sprinkles
Instructions
Wash and dry all of your apples and make sure none of them have stickers on them. Remove the stems.
Wrap the apples with Caramel Apple Wraps according to the package instructions. Heat the Caramel Wraps onto the apples, per the instructions (the ones I used say to place them in a 200 degree oven for 5 minutes to make sure the caramel adheres to the apples). Let the caramel apples sit for a few minutes to cool.
Set out two small plates; pour peanut butter chips on one plate and Rice Krispies cereal on the other.
Melt your Candy Quick melts in the microwave or over low heat on the stovetop. (I made 3 caramel apples and used approximately 1/3 of the bag of Candy Quick melts). Use a spoon to spoon and spread the white chocolate over your first caramel apple (hold the apple over the bowl of white chocolate, rotating it as you spread the chocolate on in an even layer).
Roll the apple first through the peanut butter chips, then through the Rice Krispies cereal, using your fingers to sprinkle and press more onto the apple so its completely covered. Quickly sprinkle your sprinkles over the apple, trying to fill in any spots of white chocolate that aren't covered yet.
Place the finished apple on a piece of parchment to set. Repeat with the other caramel apples until you're finished.
Once they are set, you can wrap them with cellophane or place in treat bags for friends! Enjoy!
Notes
*Choose your absolute favorite apples! I used Honeycrisp. Be sure to choose apples that are fresh, ripe, and bruise-free.
Treats With a Twist http://www.treatswithatwist.com/wp/