I know. I know. I KNOW.
Seems like it was only yesterday that I was protesting pumpkin. But it wasn't yesterday. *cough cough*
It was last Friday.
But, in my defense, it is October now. And it's only ONE recipe so far. I'll be gone for my wedding so I can vouch for not having pumpkin recipe upon pumpkin recipe lined up for ya…but I'm not going to say there won't be some pumpkin.
If it makes you feel any better, I broke my protest for what turned out to be a really ugly recipe. It tastes heavenly, as most ugly foods do…but it's pretty darn ugly. Shucks.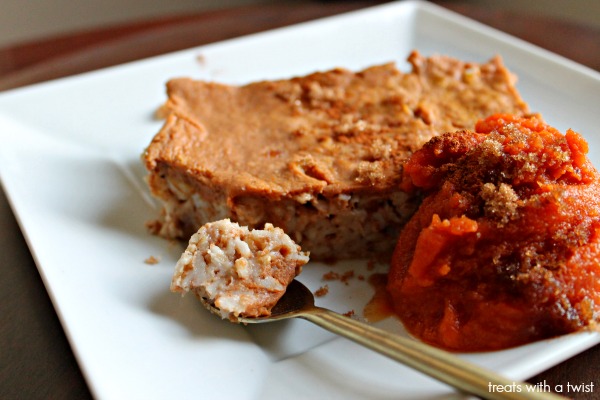 Let me break this down for you. This baked oatmeal looks like it's topped with a layer of pumpkin pie, right? Looks complicated, right? Wrong! It actually rises to the top of the baked oatmeal as it bakes! Magic!
So I guess I made you magical baked oatmeal. It's oatmeal with a pie on top. You are SO darn welcome. And you can plop this down in front of your family, say "take that!" and know that you served them a healthy breakfast that tasted like pie and was magical. You're superwoman (or man…).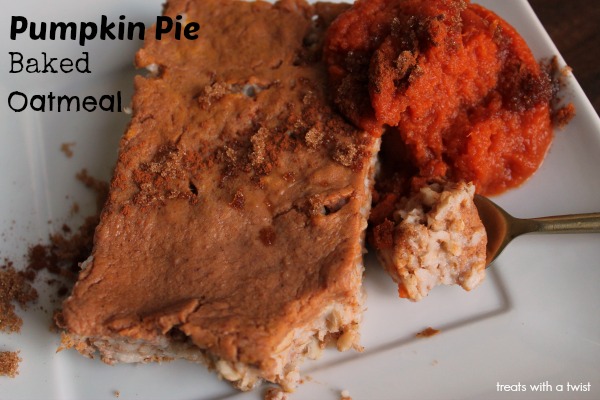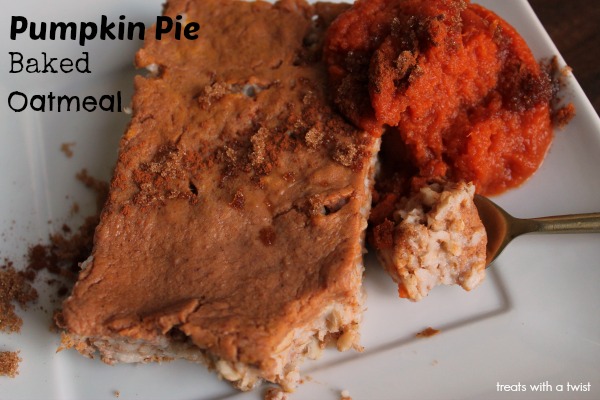 Pumpkin Pie Baked Oatmeal
2013-10-01 19:34:36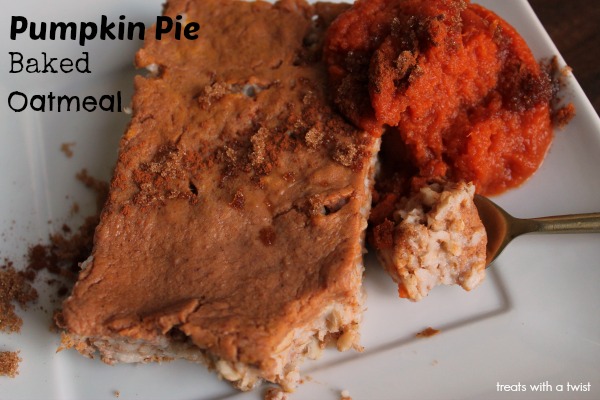 Serves 4
A healthy, delicious baked oatmeal that tastes just like Pumpkin Pie! You can make it the night before and reheat it for breakfast, or prepare it in the morning for a family feast. The pumpkin layer magically rises to the top while baking, leaving the oatmeal topped with a silky pumpkin custard.
Ingredients
1 ½ cups old fashioned oats
½ cup pumpkin puree (not pumpkin pie filling)
1 egg
1 tsp. vanilla extract
½ tsp. cinnamon1/2 tsp. allspice
¼ tsp. nutmeg
2 Tbs. brown sugar
1 cup milk (I use unsweetened almond milk)
2 cups water
Instructions
Preheat your oven to 375 degrees F. Spray a 9x9" baking dish with nonstick spray.
In a large mixing bowl, combine the oats, pumpkin, egg, vanilla and spices. Add the milk and stir to combine. After the ingredients are well mixed, add the water. Transfer the oatmeal to your prepared baking dish.
Bake for 45-60 minutes, or until the center is no longer jiggly when lightly tapped.
Let cool slightly before serving. Enjoy warm or place in the fridge to serve later, re-warmed. Serve dollopped with a bit more pumpkin and a sprinkle of cinnamon and brown sugar! Enjoy!
Notes
You can use all water or all milk instead of some of each, but I like the milk:water ratio I've used here.
Treats With a Twist http://www.treatswithatwist.com/wp/