I love thumbprint cookies. They're pretty amazing.
You get a cookie and a puddle of goodness all in one. And who doesn't love a puddle of goodness?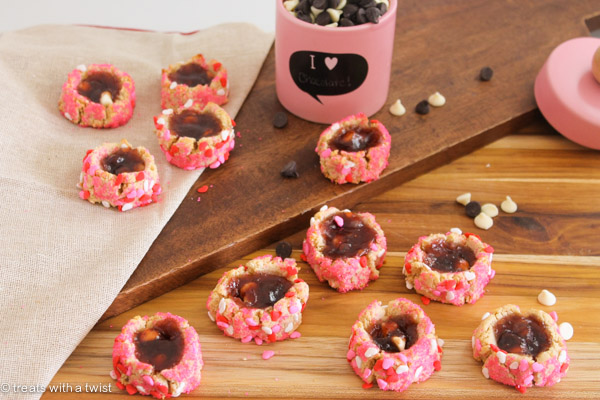 These ones are pretty magical. First of all, can we talk about how adorable and gaudy those sprinkles are? Totally amazing. Valentine's Day ain't got nothin' on my sprinkles.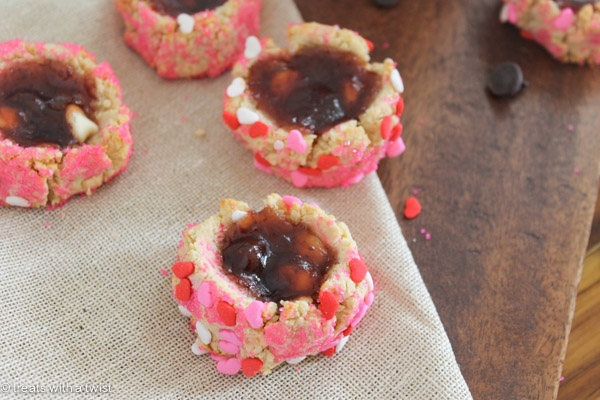 These cookies are perfectly tender, savory and slightly sweet. They're filled with surprise little white and semisweet chocolate chips…BEST surprise ever. And then strawberry jam! That's my jam! Yes!
Chocolate covered strawberries?! Put it in a cookie, honey, then it'll be perfect. Done. You're welcome.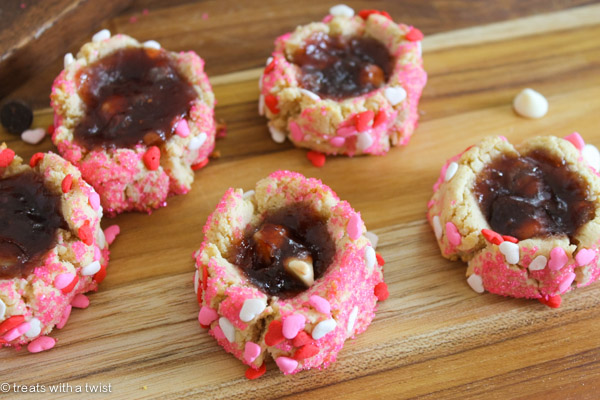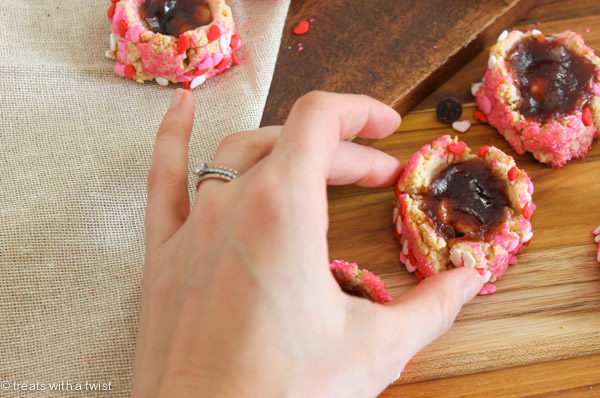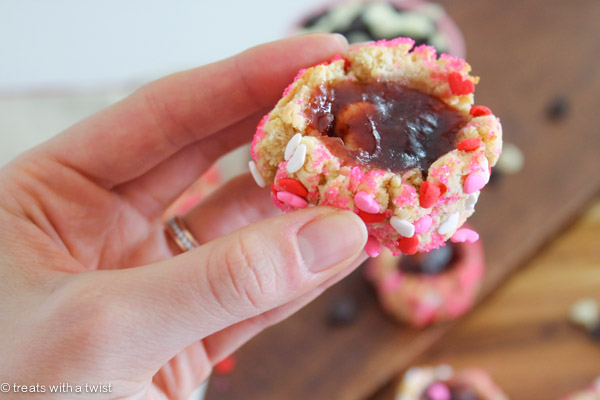 Make them, hoard them, eat them all, gift a couple. Valentine's Day, conquered.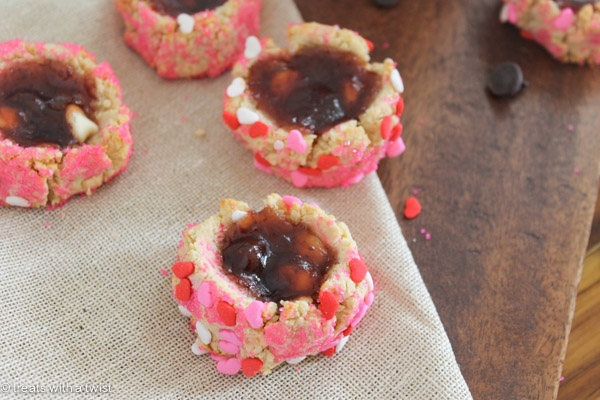 Chocolate Strawberry Thumbprint Cookies (grain free)
2014-02-09 17:40:26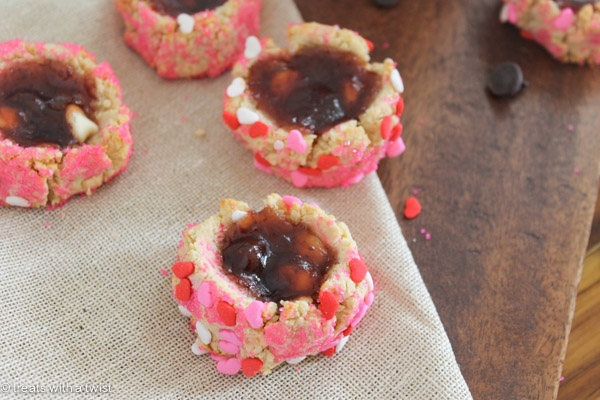 These tender, slightly-sweet, adorable thumbprint cookies are perfect for Valentine's Day or any day! They're grain-free and filled with white and semisweet chocolate chips, dolloped with strawberry jam and rolled in sprinkles. A perfect treat for hoarding or sharing. (makes 12 cookies)
Ingredients
1 ¼ cup nut flour (I used cashew but almond would be good too)
½ cup coconut flour
½ cup granulated Stevia
¾ cup baking powder
¼ tsp. salt
1 egg + 1 egg white
¼ cup unsalted butter, melted and cooled
2 tsp. vanilla extract
¼ cup white and semisweet chocolate chips
3 Tbs. strawberry jam, divided
Sprinkles, for rolling
Instructions
Preheat your oven to 350 degrees F and line a baking sheet with parchment paper.
In a large bowl, combine all of the dry ingredients. To the dry ingredients, add the melted butter, egg and egg white, and vanilla extract. Use a spoon or your hands to mix all of the ingredients well, until the dough comes together.
Use a cookie scoop (mine is approximately 1.5 Tbs) to scoop the dough into balls and place them on your cookie sheet (you'll want to pack the dough into the scoop).
Take each cookie dough ball and roll the edges in sprinkles (I avoided rolling the top and bottom of each ball in the sprinkles so they wouldn't burn to the pan or be covered with the jam). Use your fingers to press and mold an indention into the sprinkled cookie dough ball, using your fingers to pinch together any large cracks in the sides of the dough. Repeat with each dough ball.
Drop 2 white chocolate chips and 2 semisweet chocolate chips into each cookie dough indention. Then add 1/2-1 tsp. of strawberry jam on top of the chips, being careful not to overfill the cookies.
Bake the cookies for 8 minutes, then rotate your cookie pan, and then bake for an additional 8 minutes. Let the cookies cool slightly before carefully moving them to a wire rack to finish cooling.
Enjoy!
Notes
Baked cookies will keep in a zip-top bag in the fridge for one week or in the freezer, indefinitely.
Adapted from my Jam Thumbprint Cookies (grain free)
Treats With a Twist http://www.treatswithatwist.com/wp/