Whew. Now there's a mouthful of a title. But trust me, these are totally the bomb.
If you've been dying for a decadent dessert that doesn't make you want to cry over your scale when it's gone, this is just perfect for you. I seem to have made mousse.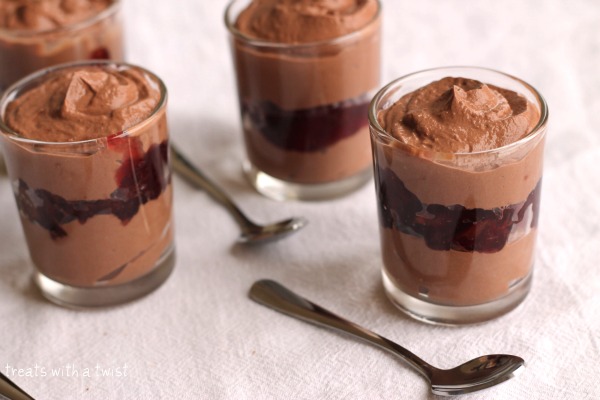 Healthy mousse.
Yes, there is a healthy mousse. Rich, chocolate, healthy mousse.
With cherries. Like, Black Forest Cake, flavor combo extraordinaire…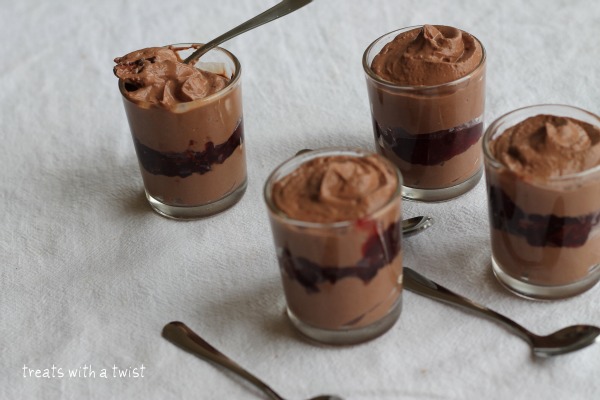 Trust me, you'll only need one of these rich, decadent little shooters even though you could eat the whole batch and it wouldn't kill ya.
Now that's what I call a happy Valentine's Day dessert! Or, an any dessert!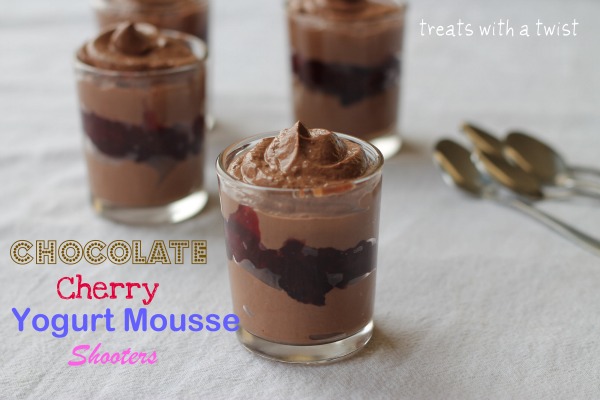 Dark Chocolate Cherry Yogurt "Mousse" Shooters
(makes 4 dessert shooters)
1 cup plain nonfat Greek yogurt
1/4 cup dark cocoa powder
1/4 cup granulated Stevia
8 tsp. cherry jam (sweetened with juice, not sugar), divided
~In a medium sized bowl, combine the yogurt, cocoa, and Stevia. Carefully mix until fully incorporated (this may take some smashing and careful stirring, but it all comes together, I promise). You now have a very thick, rich mousse! Scoop it into a zip-top bag, snip off the corner, to be able to pipe it.
~Pipe the mousse into the bottom of your 4 shot glasses, filling them 1/3-full. Then, add 1-2 tsp, of cherry jam to the shot glasses (I used a small melon baller to do this). Then, finally top off each shot glass with a final layer of the mousse. Serve immediately or cover with plastic wrap and refrigerate until you're ready to serve them.
Strike up a conversation: Are you going to totally pig out tomorrow for "Fat Tuesday" or are you going to try to keep it tame? I hope you guys don't decide to give up "all sweets" for Lent because I've got some really amazing stuff ready for you!
Just sayin.