Every so often I get all fancy-pants. Try. Try to get all fancy-pants.
Words like "deconstructed" and "avant-garde" and "inside-out" dance through my head while I'm baking and cooking. And sometimes, sometimes, I'm a big ol' food snob and I listen. I oblige.
These don't look all that complicated. Really, they're not. They're quite simple. And brilliant.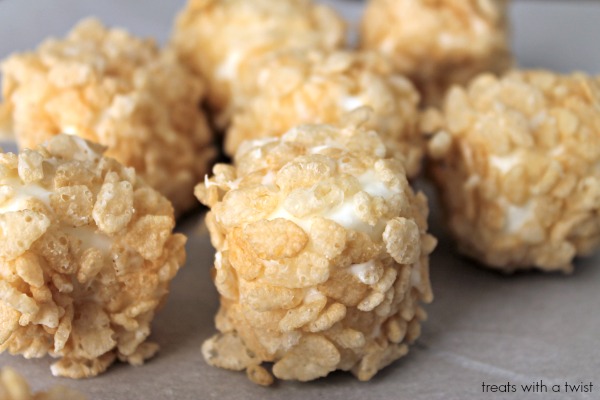 If you love Rice Krispie Treats…well bow down to the Krispie Mallow Treat. I know, I'm awesome.
And oh so humble, right?
I guess they're not "deconstructed" Krispie Treats. That would be like me handing you a handful of Rice Krispies and then a handful of marshmallows. Although that sounds super tasty to me, it's still not the same.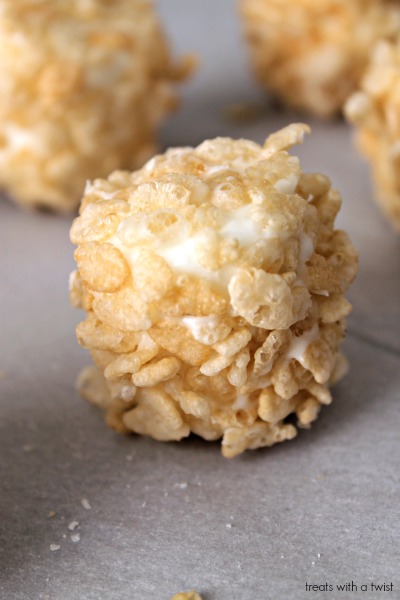 So I guess…"inside-out"? Because instead of the marshmallows all melty and the Krispies mixed in, the marshmallows are still whole and squishy, coated in yummy white chocolate and crispy, crunchy Rice Krispies. Ahhhhhh yum!!!
Making them is very simple! You melt up your Candy Melts or Almond Bark (just choose easily meltable white chocolate) in one bowl and have a bowl of Krispies next to it. Roll your marshmallow in the chocolate, then put it in the bowl of Krispies and coat it up real good…then set it aside to set up!
Then…you totally try to restrain yourself as you bite into them, one by one, "taste testing" to make sure they're perfect. They are. And now you have to make more.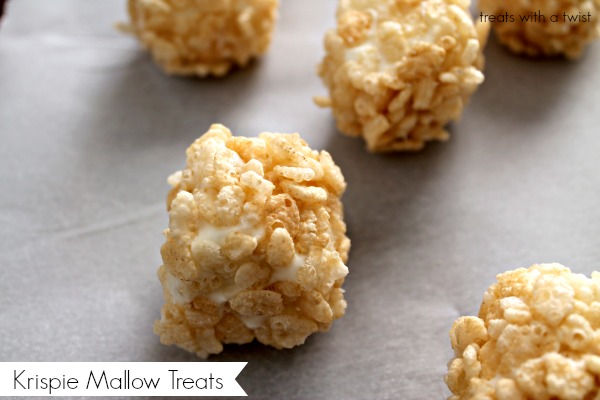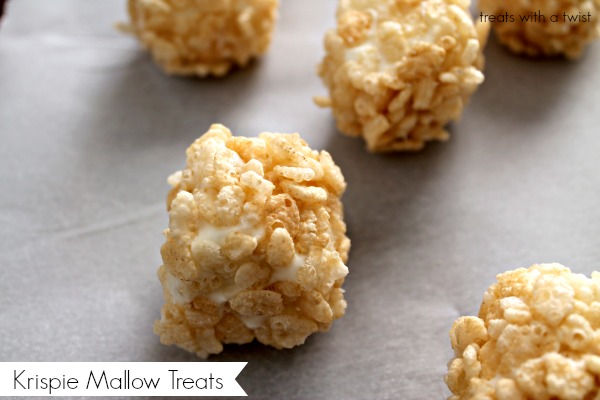 Krispie Mallow Treats
2013-09-24 11:48:21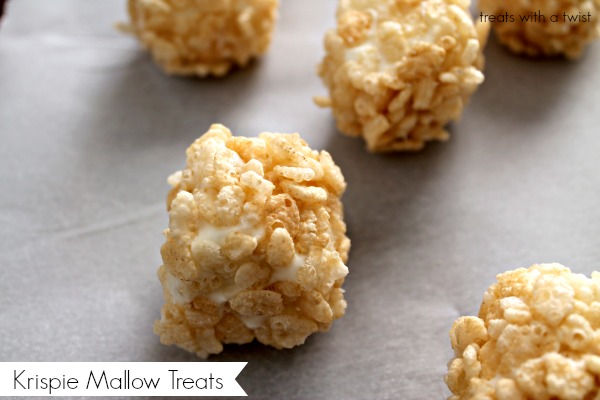 A playful new spin on the old Rice Krispie Treat. Marshmallows covered in white chocolate and Rice Krispies cereal, perfect for a treat for the kids or a fun dessert for your friends.
Ingredients
Standard-sized marshmallows
Rice Krispies cereal (or puffed rice cereal)
White chocolate, melted (Candy Melts or Almond Bark)
Instructions
Create an assembly line: marshmallows, a bowl of melted white chocolate (I use 1/3 cup at a time depending on how many Krispie Mallow Treats I want to make), a bowl of Rice Krispies cereal, and a piece of parchment to lay the finished Treats on to set.
Use one hand to dip and roll a marshmallow in the white chocolate, then transfer it to the bowl of cereal. Use the other hand to coat the marshmallow with cereal. Carefully lift it out of the cereal and set it on the parchment to set. Repeat with as many marshmallows as you want.
Krispie Mallow Treats will set after 20 minutes or so. Enjoy!
Treats With a Twist http://www.treatswithatwist.com/wp/